FL Lawyer for Leaving the Scene of an Accident
Helping Florida Clients Beat Tickets & Legal Consequences for Hit and Run Defense
Leaving the scene of an accident is a crime that occurs when an individual is involved in a motor vehicle accident involving property, injury, death or any combination of the three, and leaves the scene without providing important information such as:
Driver's name and license.
Driver's address.
Driver's car registration and car insurance.
When an injury or death is involved, the driver must also attempt to provide necessary support in access to urgent healthcare.
Failure to report damage to property is also encompassed by this violation. Leaving the scene of an accident is also known as a hit and run.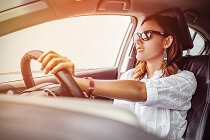 Violation of this state law can result in serious penalties, prison time and out-of-court consequences that can last for years to come. You may be able to dependably face down leaving the scene charges with the assistance of a skilled Florida traffic ticket attorney, such as Golden Traffic Ticket Law.
What are the Legal Consequences for Hit and Run in Florida?
Those who leave the scene of an accident involving only property damage can face:
Up to 60 days in jail
6 months of probation
Fines up to $500.
When an injury is involved, defendants face a third degree felony with a maximum of:
5 years in prison
5 years of probation
Up to $5,000 in fines.
If a driver leaves the scene of an accident that resulted in the death of another person, conviction may result in anywhere from:
21 months to up to 15 years in prison
15 years of probation
Fines up to $10,000.
Experienced and Winning Florida Hit and Run Defense
There are a variety of possible defenses to leaving the scene charges that could be applied depending on the particulars of your case. The attorney and of counsel attorneys at Golden Traffic Ticket Law have approximately 35 years of experience in defending clients who have been charged with crimes such as leaving the scene, speeding, DUI, and many others, and thus the firm has a skill set that focuses on Florida traffic law.
Clients can take comfort in the fact that the firm is large and resourceful enough to handle even the most complicated cases, and also small enough so that clients can speak directly with Attorney Golden when the need arises.
Their number one priority is to see to the minimization or dismissal of your charges, and Golden Traffic Ticket Law is prepared to do everything possible for your defense. We are here to assist you, and you are invited to talk to Attorney Golden personally in a free consultation by calling (954) 680-7575.