Osceola County Traffic Ticket Lawyer
Legal Defense for Traffic Tickets in Osceola County
Golden Traffic Ticket Law is committed to providing you with aggressive defense against your traffic violation charges. The firm has significant experience in this area of law, with the founding attorney having served two terms as a member of the Florida Bar's Traffic Court Rules Committee and a veteran of over 50,000 traffic cases.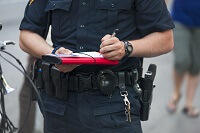 They will provide you with the help you need to maximize your chances of a successful outcome to your traffic ticket case.
The firm does not dabble in traffic law while providing comprehensive services in other areas. The firm's entire practice is dedicated to the defense of traffic tickets, and this focus is evident in the high quality representation each client receives. When a person is represented by the firm, their case is not pawned off on a paralegal or an assistant.
An attorney works closely with them for the duration of their legal proceedings, and is available to be reached by phone. In addition, clients will not be faced with exorbitant legal fees when seeking representation. The firm is committed to keeping their services affordable, and so usually charges a fee of only $49 to $199 (civil traffic infractions only). This fee is one time only, no matter how many court appearances are necessary.
In most cases, the following is guaranteed or your money back:
Clients will not be found guilty of their traffic violation
Clients will not be required to attend driving school
Clients will not have points added to their driving record
Clients will not have to show up to court themselves
Some restrictions apply, call for details. Fines/court costs may apply and are additional. If the firm is unable to accomplish the above in any qualified case, then the client receives his or her full money back.
It is recommended that you contact an Osceola County traffic ticket lawyer at the firm right away for help with:
Legal Defense for Traffic Tickets in Osceola County
Golden Traffic Ticket Law also provides defense services for more serious traffic infractions, such as:
Racing
Reckless driving
Habitual traffic offender charges
Hit and run
Allowing an unauthorized person to drive one's vehicle
Violation of drivers' license restrictions
Driving with a suspended/revoked license
The physical office location (for purposes of creating a hard copy file) is in Broward County. However, we can handle all of your traffic matters in all of the above referenced 19 counties throughout the State of Florida. In all cases, court coverage is provided by highly qualified traffic law attorney who is extremely knowledgeable as to local rules and procedures and have extensive experience. Call the office today, and we can help you with your ticket over the phone in just a few moments.